UH Rainbow Babies first hospital in the world to use new spinal surgery technology
By Admin&nbsp| June 06, 2022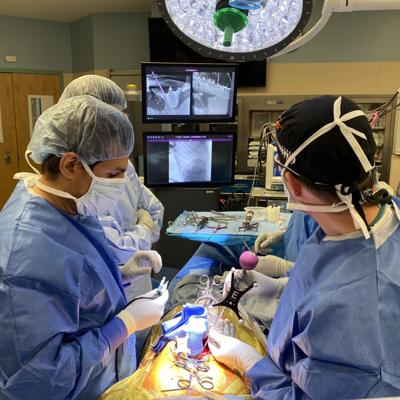 University Hospitals Rainbow Babies & Children's Hospital in Cleveland is the first in the world to use the Pulse platform to perform a pediatric spine surgery, according to a news release.
Using the technology, which is designed to increase safety, efficiency, and procedural reproducibility of surgical outcomes in spine surgery, Dr. Michael Glotzbecker, division chief of pediatric orthopedic surgery at UH Rainbow, completed a posterior spinal fusion on a 12-year-old girl with adolescent idiopathic scoliosis. In a single platform, it integrates radiation reduction, imaging enhancement, rod bending, navigation, intraoperative neuromonitoring, and spinal alignment tools.
"We are thrilled to offer this remarkable new technology to our patients, as navigational platforms like Pulse are truly the future of surgery," Glotzbecker, who is also the George H. Thompson Distinguished Chair in Pediatric Orthopaedics and an associate professor at Case Western Reserve University School of Medicine in Cleveland, said in the release.
Pulse, developed by spine-focused technology company NuVasive, is the only enabling technology with the ability for utilization in 100% of...(More)
For more info please read, UH Rainbow Babies first hospital in the world to use new spinal surgery technology, by Clevland Jewish News