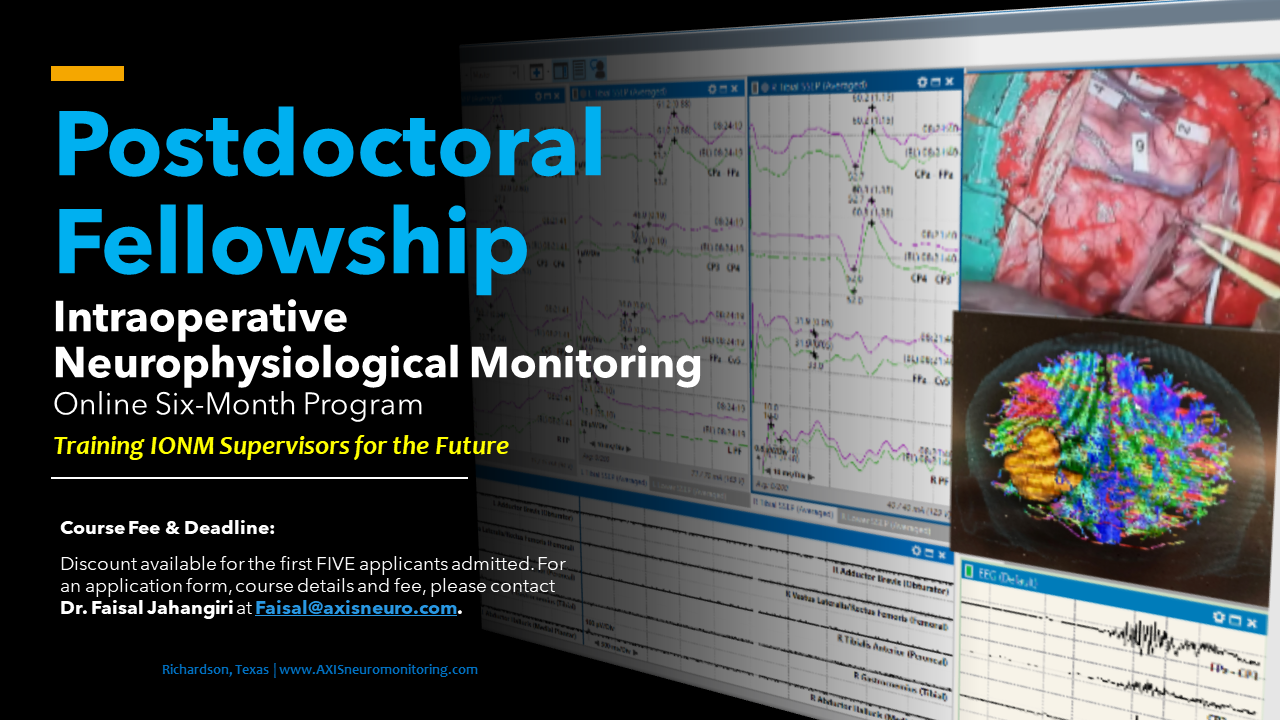 Postdoctoral Fellowship - Intraoperative Neurophysiological Monitoring - Online Six-Month Program - Training IONM Supervisors for the Future
By Admin&nbsp| June 01, 2020
Introduction:
Axis Neuromonitoring is offering this course to train the supervising neurophysiologists in the field of Intraoperative Neurophysiological Monitoring (IONM). This course is the first-ever fellowship offered for senior neurophysiologists. It is a complete online course utilizing advanced software for online lectures, webinars, peer-reviewed research papers, case reports, discussion forums, and quizzes. All fellows will complete 20 units in 24 weeks.
Target Audience:
The course mainly postdoctoral candidates with Ph.D., AuD, and foreign MD degrees with a keen interest in developing their skills in IONM.
Goals:
The goals for this course include:
▪ Understand and improve knowledge and skills to monitor IONM data
▪ Develop troubleshooting skills to identify intraoperative data changes immediately
▪ Guide the national and international doctoral-level neurophysiologists for development of IONM programs
Application Process:
Complete the application form and submit along with the following documents:
▪ Curriculum Vitae
▪ Ph.D. or AuD or Foreign MD Degree
▪ Letter of interest
Application Deadline:
The group is limited to the first ten (10) on a first-come basis. The deadline for submission is extended to Jun 10, 2020, at 11:59 p.m. CST. The program will start on Monday, June 15, 2020.
Course Fee:
The course fee is $3500. Discount available for the first FIVE applicants admitted. For an application form and course fee, please contact Dr. Faisal Jahangiri at Faisal@axisneuro.com.