Intraoperative Neurophysiological Monitoring (IONM) During Trigeminal Schwannoma Surgery
By Admin&nbsp| January 11, 2020
Faisal R. Jahangiri, M.D., CNIM, D.ABNM, FASNM, FASET1; Shaik Irfan Basha, MBBS, MS, FRCSoto, FRCSorlHNS Ed, CCT2; Imtiaz A. Muhammad3; Sidra Ilyas, MD4, Rabehah Asdi5

1Axis Neuromonitoring LLC, Richardson, TX, USA; 2Division of ENT, Dept. of Surgery, King Abdulaziz Medical City, Riyadh, Saudi Arabia; 3Neuronavigation Unit, Dept. of Nursing, King Abdulaziz Medical City, Riyadh, Saudi Arabia; 4Dept. of Anatomy, School of Medicine, University of California, San Francisco, CA; 5Student, School of Behavioral and Brain Sciences, The University of Texas, Richardson, USA.
Objective:
This case report illustrates the benefit of utilizing Intraoperative Neurophysiological Monitoring (IONM) during the resection of a Trigeminal Schwannoma. The IONM utilized Somatosensory Evoked Potentials (SSEP), Electromyography (EMG) and Electroencephalography (EEG).
Case Report:
A 28-year-old male presented a large left trigeminal schwannoma. An MRI showed a large left sinus tumor involving multiple cranial nerves. The surgeon planned to do craniotomy with a total resection. Total intravenous anesthesia (TIVA) with propofol and remifentanil infusion was used for anesthesia.
After patient intubation, surface adhesive electrodes were placed for stimulating ulnar SSEP in upper extremities and posterior tibial nerve SSEP in lower extremities. The subdermal needle electrodes were placed for EMG recordings for cranial nerve III (Oculomotor) in medial rectus; for cranial nerve IV (Trochlear) in superior oblique; and cranial nerve VI (Abducens) in lateral rectus muscles. The surgeon was informed of good baselines SSEP and EMG responses. The surgeon was continuously updated about the responses. Spontaneous EMG (s-EMG) train activity was reported to the surgeon during the resection. During and after tumor resection triggered electromyography (t-EMG) was performed to identify the cranial nerves by the surgeon using a monopolar fine tip probe. T-EMG responses were observed at 0.5 mA by direct monopolar nerve stimulation.
Discussion:
Oculomotor nerve (CN III) injury can be caused by the insufficient blood supply and compression caused by aneurysm and tumor. CN III palsy results in diplopia, droopy eyelid and enlarged pupil. It can also lead to paresis of eye adduction and downward/upward gaze. Trochlear nerve (CN IV) can be damaged in skull base, brainstem and cavernous sinus surgery. CN IV palsy can leads to vertical diplopia with weakness of downward eye movement. The affected eye shifts upward to the normal eye. The leading causes of CN IV palsy are head trauma (53%), followed by surgery (14%) and inflammation (14%) [1]. Abducens nerve (CN VI) can be damaged during skull base, cavernous sinus, and brainstem surgeries. Abducens palsy has been reported in 16% to 50% of patients receiving skull base surgeries [2]. Abducens palsy leads to diplopia and inability to abduct eyes. Few studies documented the advantage of abducens nerve monitoring in surgery. Kaspera et al. reported a statistically significant difference in the correct identification of abducens nerve (70% vs 23%) with IOM during surgery of cavernous sinus meningiomas [3]. IONM of CN VI has also been used in brainstem surgery and midbrain surgery [4].
Utilizing the SSEP, EEG, s-EMG, and t-EMG during manipulation and tumor resection helps in identifying any pressure or stretch on the cranial nerves. Intraoperative use of s-EMG and t-EMG during the surgical procedures for resection of the trigeminal schwannoma can be highly beneficial to the patient and as well as the surgeon [5]. Real-Time feedback to the surgeon about the oculomotor, trochlear and abducens nerves can minimize any post-operative neurological deficits involving the motor function of the eye [6].
Conclusion:
In this patient, the s-EMG and t-EMG were used effectively for the prevention of any loss of eye motor function intra-operatively. The neurophysiological monitoring utilizing EMG helped in directing the surgeon intra-operatively. During surgeries that put the cranial motor nerves at risk of injury, continuous monitoring of the function by EMG is desirable.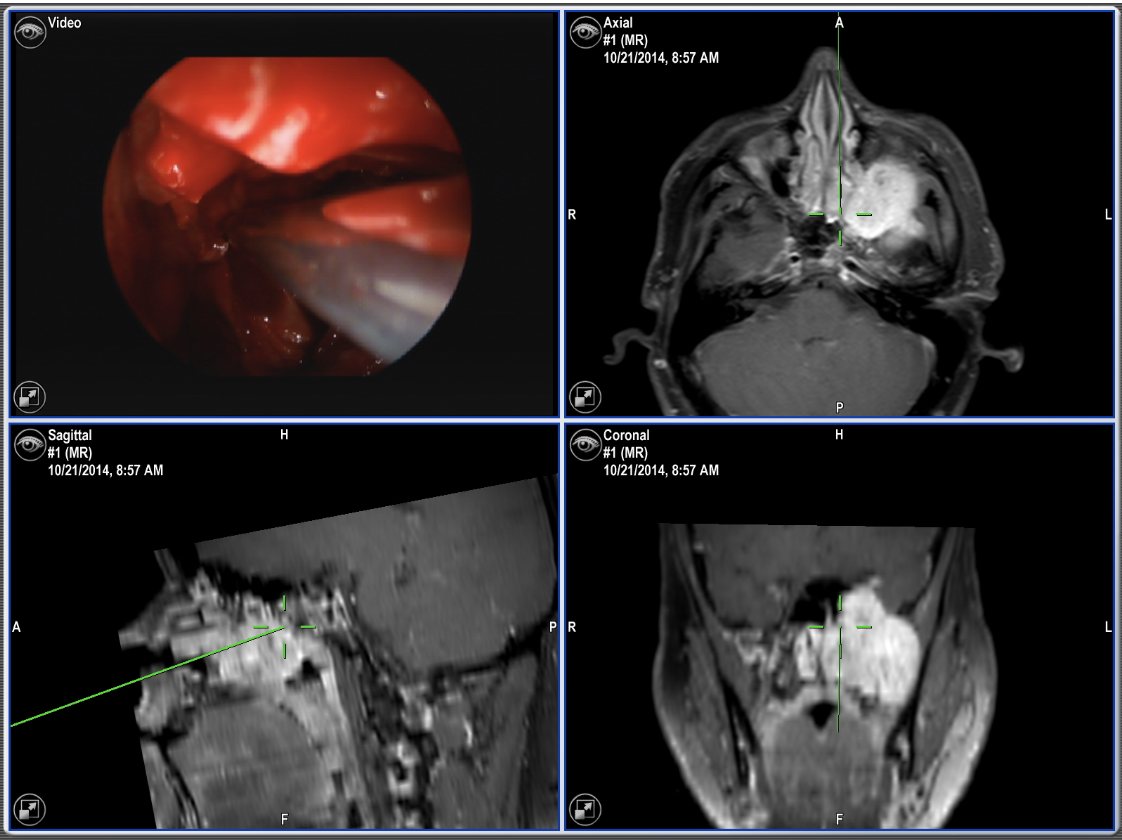 Figure 1: Intraoperative navigation showing a large left sinus tumor (Green mark).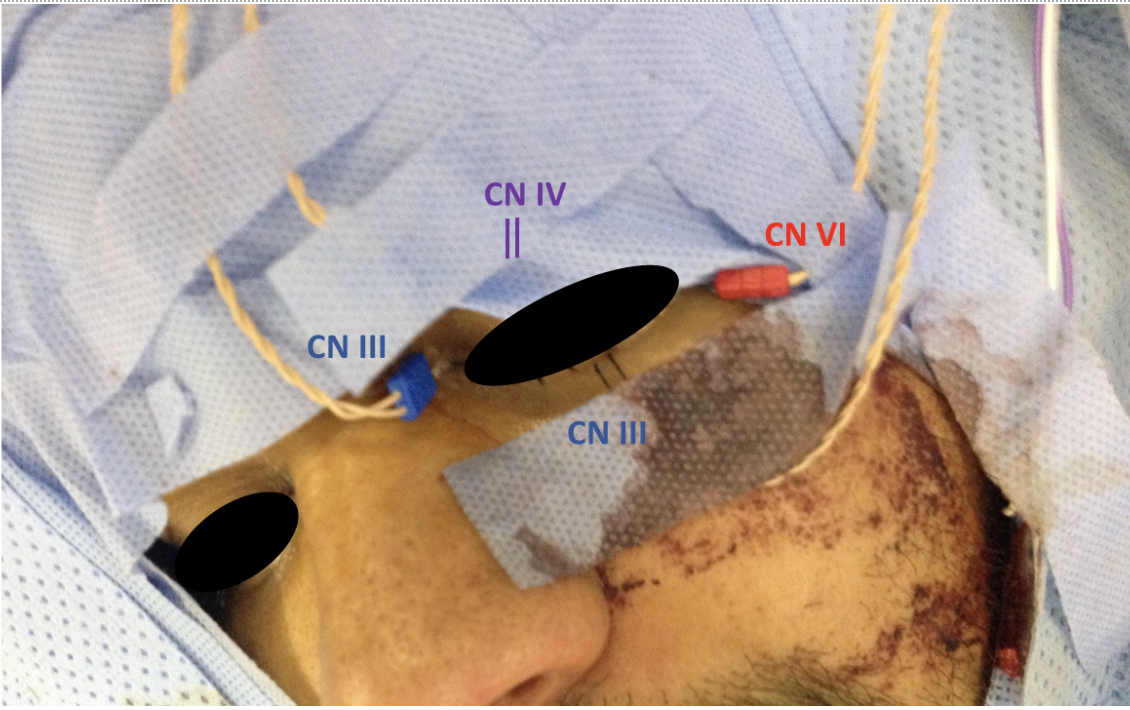 Figure 2: Patient Setup: The subdermal needle electrodes placed for EMG recordings for cranial nerve III (Oculomotor) in medial rectus and inferior rectus (Blue); for cranial nerve IV (Trochlear) in superior oblique (Purple); and cranial nerve VI (Abducens) in lateral rectus muscles (Red).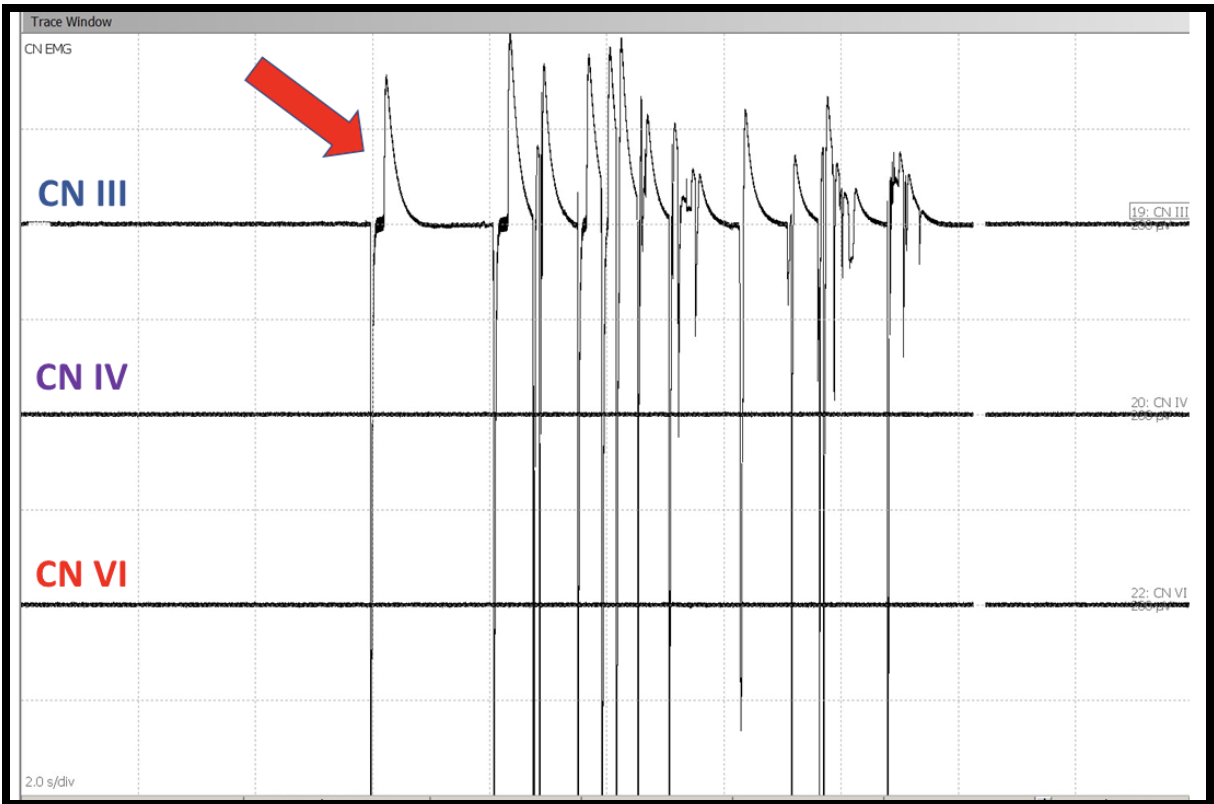 Figure 3: Spontaneous Electromyogram (s-EMG) responses showing EMG train activity in Cranial Nerve III from medial Rectus muscle (Red arrow).
The intraoperative neuromonitoring was performed by a CNIM certified [7] technologist and a D.ABNM board-certified [8] neurophysiologist. A board-certified neurologist with a specialty in IONM was also present online for remote monitoring during the entire surgical procedure [9].
Results:
In this patient, the intraoperative neurophysiological monitoring (IONM) helped in guiding the surgeon during the high-risk procedure. Due to a sudden decrease in left VEP responses surgeon was alerted and this resulted in no postoperative neurological deficit. Tumor attached to the left optic nerve was resected without any loss of vision intraoperatively.
Post-operative:
The patient neurological examination showed no neurological deficits involving cranial nerves III, IV and VI at 24 hours, one week and three months follow-up.
References
[1] Keane JR. Fourth nerve palsy: historical review and study of 215 inpatients. Neurology. 1993 Dec;43(12):2439-43.
[2] Kawaguchi M, Ohnishi H, Sakamoto T, Shimizu K, Touho H, Monobe T, Karasawa J. Intraoperative electrophysiologic monitoring of cranial motor nerves in skull base surgery. Surg Neurol. 1995 Feb;43(2):177-81.
[3] Kaspera W, Adamczyk P, ?laska-Kaspera A, ?adzi?ski P. Usefulness of intraoperative monitoring of oculomotor and abducens nerves during surgical treatment of the cavernous sinus meningiomas. Adv Med Sci. 2015 Mar;60(1):25-30. doi: 10.1016/j.advms.2014.08.009
[4] P. Hariharan, J. R. Balzer, K. Anetakis, D. J. Crammond and P. D. Thirumala, "Electrophysiology of Extraocular Cranial Nerves: Oculomotor, Trochlear, and Abducens Nerve," Journal of Clinical Neurophysiology, pp. 11-15, 2018.
[5] Jahangiri FR, Minhas M, Jane J Jr. Preventing lower cranial nerve injuries during fourth ventricle tumor resection by utilizing intraoperative neurophysiological monitoring. Neurodiagn J. 2012 Dec;52(4):320-32.
[6] Jahangiri, FR. Surgical Neurophysiology: An Introduction to Intraoperative Neurophysiological Monitoring (IONM). Second Edition. 193-95, April 2012.
[7] ABRET Neurodiagnostic Credentialing and Accreditation. (2019, Sep 9). ABRET. Retrieved Sep 9, 2019, from ABRET: https://www.abret.org/candidates/credentials/cnim/
[8] ABNM: American Board of Neurophysiologic Monitoring. (2019, Sep 9). ABNM: American Board of Neurophysiologic Monitoring. Retrieved Sep 9, 2019, from ABNM: American Board of Neurophysiologic Monitoring: http://www.abnm.info/
[9] Gertsch JH, Moreira JJ, Lee GR, Hastings JD, Ritzl E, Eccher MA, Cohen BA, Shils JL, McCaffrey MT, Balzer GK, Balzer JR, Boucharel W, Guo L, Hanson LL, Hemmer LB, Jahangiri FR, Mendez Vigil JA, Vogel RW, Wierzbowski LR, Wilent WB, Zuccaro JS, Yingling CD; membership of the ASNM. (2019). Practice guidelines for the supervising professional: intraoperative neurophysiological monitoring. J Clin Monit Comput, 33(2), 175-183. doi:10.1007/s10877-018-0201-9