Improving the Patient Outcomes by Utilization of Intraoperative Neurophysiological Monitoring (IONM) During Hip Replacement Surgery:
August 06, 2019
Case Report
Faisal R Jahangiri, MD, CNIM, D.ABNM, FASNM
Introduction: Sensory and motor functions might be at risk during various hip surgeries. This case report demonstrates the utilization of Intraoperative Neurophysiological Monitoring (IONM) during a hip replacement surgery for an early detection of a possible nerve injury.
Methods: A retrospective analysis of neurophysiological monitoring data from a hip replacement procedure was performed. A 65-year-old female with a history of hip pain was admitted for a right hip replacement. Neuromonitoring paradigm included upper and lower extremity somatosensory evoked potentials (SSEPs) and Motor Evoked Potentials (TCeMEP). Electromyography (EMG) from the lower extremity muscles were also recorded bilaterally. Train of four (TOF) was also recorded from the abductor hallucis muscle as well for monitoring the level of muscle relaxant.
Results: During the procedure, when the surgeon increased the traction on the right leg, a decrease in the right lower Somatosensory Evoked Potentials (SSEP) was noted. The surgeon was immediately notified. The surgeon decreased the traction, with subsequent improvement in the sensory signals in the patient's right leg. Postoperatively no neurological deficit was noted due to immediate identification and decrease in the traction on the patient's right leg.
Conclusion: In this surgical procedure, if sensory changes were not identified on a timely manner by intraoperative neuromonitoring, it may have resulted in damage to the nerves of right lower limb due the stretch. Hence, patient would have post-operative neurological deficits.
More study is needed to establish better statistical methods, better modality efficacy, and a better understanding of intraoperative countermeasures that may be employed when an alert is encountered to prevent impending neurological sequelae.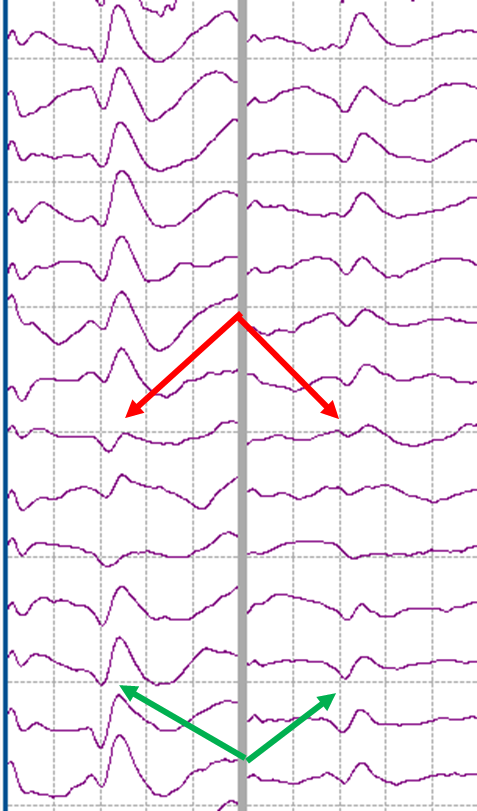 Figure: A decrease in sensory responses (red arrow). Returned to baseline sensory responses (green arrow).
__________________________________________________________
References:
1. Overzet K, Kazewych M, Jahangiri FR. Multimodality Intraoperative Neurophysiological Monitoring (IONM) in Anterior Hip Arthroscopic Repair Surgeries. Cureus. 2018 Sep 22;10(9):e3346. doi: 10.7759/cureus.3346.
2. Hesper T, Scalone B, Bittersohl B, Karlsson S, Keenan J, Hosalkar HS. Multimodal Neuromonitoring During Safe Surgical Dislocation of the Hip for Joint Preservation: Feasibility, Safety, and Intraoperative Observations. J Am Acad Orthop Surg Glob Res Rev. 2017 Oct 13;1(7):e038.
3. Calder HB, Mast J, Johnstone C. Intraoperative evoked potential monitoring in acetabular surgery. Clin Orthop Relat Res. 1994 Aug;(305):160-7.
4. Helfet, D., Hissa, E., Sergay, S., and Mast, J. (1991): Somatosensory evoked potential monitoring in the surgical management of acute acetabular fractures. J. Orthop. Trauma, 5:161–66.